Volvo's self-driving garbage truck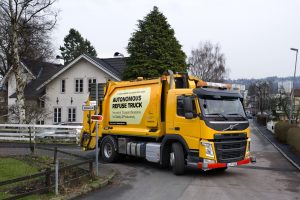 As autonomous robots and drones gain ground in solving the last mile delivery problem, they'll be delivering more and more packages – resulting in more and more material for recycling… So its only right that the solution to collect the garbage should also be an autonomous garbage collection vehicle.
Swedish car maker Volvo Group has developed an autonomous refuse-collection truck that can automatically reverse down city streets while the driver walks in front of the vehicle, collecting garbage bins and tipping them into the waiting truck bed.
The vehicle operates along a pre-programmed route and uses sensors to continuously monitor its immediate environment and avoid any obstacles. Steering, speed, and gear-changing are constantly adjusted to optimise fuel consumption and reduce emissions.
Volvo will be testing the truck for the rest of this year through a partnership with Swedish waste and recycling specialist Renova.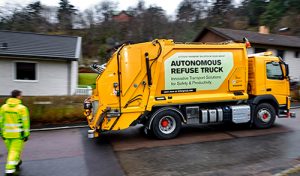 "There is amazing potential to transform the swift pace of technical developments in automation into practical benefits for customers and, more broadly, society in general. Our self-driving refuse truck is leading the way in this field globally, and one of several exciting autonomous innovations we are working with right now," said Volvo Group chief technology officer Lars Stenqvist.
"One important benefit of the new technology is a reduction in the risk of occupational injuries, such as wear in knee joints – otherwise a common ailment among staff working with refuse collection."