Virginia legalises delivery robots
In the United States, Virginia state governor Terry McAuliffe has signed a ruling allowing delivery robots to use public pavements from 1st July 2017. While pilot programmes are underway in Washington DC and Redwood City, California, Virginia is the first state with a law governing such robots.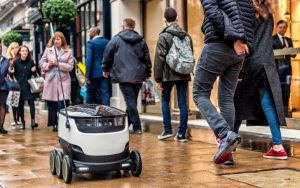 Advised by the robot's maker Starship Technologies, the legislation states that the six-wheeled machines cannot travel faster than ten miles an hour, or weigh over 50 pounds, but will be allowed to travel autonomously. The law doesn't require robots to stay within line of sight of a person in control, but a person is required to at least remotely monitor the robot and take over if anything goes wrong.
While Starship Technologies benefits immediately from the new law, it is interesting that online delivery businesses including Amazon and Grubhub sent letters to Virginia's governor in support of the law. Meanwhile, other companies including Marble and Dispatch are also working to bring their own autonomous robots to city pavements.
The Robovan development with Mercedes begins to make more sense of Starship's concept, reducing the cost of that last mile of delivery, while simultaneously taking larger vehicles off the road which brings additional environmental benefits.