The Mercedes-Benz Future Truck 2025 will drive itself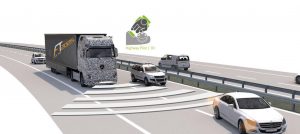 Daimler Trucks has unveiled the transport system of the future. The Mercedes-Benz Future Truck 2025 will drive itself.
The road there is being paved by assistance and telematics systems that are already in use today. These were brought together in a highly intelligent system called 'Highway Pilot'.
The result: increased safety, lower fuel consumption and also improved working conditions for professional truck drivers. And improved vehicle/transport management and app-based solutions will enable fleet operators to save money.
Yet the pioneer among autonomously driving trucks is not just intelligent. The engineers at Daimler Trucks have given it not just a futuristic exterior, but a new life in the interior. The credo is: less is more. Fewer controls, more freedom of movement.
The Future Truck 2025 makes the impact of modern technology tangible. In particular, monotonous long-haul routes lasting hours and hours on major highways, often with tight schedules, could be made easier very soon by trucks that drive themselves.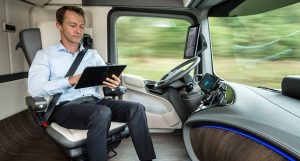 During the trip drivers perform other tasks of considerable value to their companies, including, for example, flexible scheduling of the current trip, planning of upcoming trips and bookkeeping. A truck driver can completely count on the computer systems of his truck, which, thanks to its sensors and exchanging of data with its environment, safely and efficiently heads toward its destination.