The future of food retailing and delivery in the 4th industrial age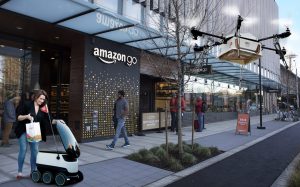 For the food industry, or rather for those who rely on working in it, it's been an interesting and perhaps prophetic year. From supermarkets without checkouts to drones and robot deliveries, the face of food retailing and foodservice is changing at an alarming but exciting rate. Welcome to the future of food, powered by the Internet of Things (IoT) and Industry 4.0: the fourth industrial age.
In November, a drone called 'Dru' successfully delivered a Domino's pizza to an address just north of Auckland, New Zealand. Domino's claimed that it was the first ever unmanned aircraft to successfully carry out a pizza delivery.
For foodies, you need to know that the order was a peri-peri chicken and a chicken and cranberry pizza; for techies, the manufacturer of the drone is Flirtey – and 'delivery-by-drone' trials are already scheduled for Australia, Belgium, France, the Netherlands, Japan and Germany, while the UK and other markets are also being considered.
In an interview, Domino's CEO Don Meij said the aerial technique could catch on, as it beats traffic and cuts waiting time. "The Dru drone by Flirtey offers the promise of safer, faster deliveries to an expanded delivery area, meaning more customers can expect to receive a freshly made order within our ultimate target of ten minutes.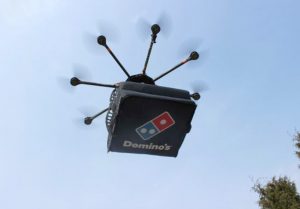 "They [drones] can avoid traffic congestion and traffic lights, and safely reduce the delivery time and distance by travelling directly to customers' homes. This is the future."
Meij assured that the technique is not an attempt to cut the cost of hiring delivery drivers, insisting that more staff would be hired to manage the flying fleet.
A poll by Domino's reported that seven in ten customers would prefer drone deliveries of their pizzas.
From drones to robots…
This year, Starship Technologies carried out its first successful grocery delivery by robot.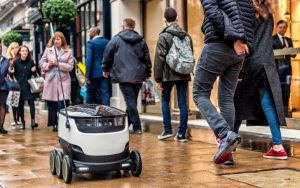 The company, launched by the former co-founders of Skype, is carrying out trials of its revolutionary self-driving six-wheeled intelligent delivery robots in the United States and in London, in the UK, where it will be used by established food delivery companies including Just Eat and Pronto. Tests are also being carried out in Düsseldorf, Bern and Hamburg by German delivery specialist Hermes and retail giant the Metro Group.
First launched in November 2015, Starship's robot is designed for the local delivery of goods and groceries for consumers for less than £1 per shipment. The robots use pavements, travel at slow speeds and produce zero emissions. The public introduction programme aims to demonstrate how easily these friendly curbside robots can integrate into human life.
"Our robots are a totally new class of devices that will provide a combination of low cost and convenience with less congested streets and zero emissions," said Starship Technologies CEO Ahti Heinla. "The robot has been in development for almost two years, and we've experienced unprecedented levels of interest and goodwill. The robot has been very well received by pedestrians in all of the interactions we've seen so far."
Early testing has shown that 80% of people had no reaction to their presence.
From driverless deliveries to stores without check-outs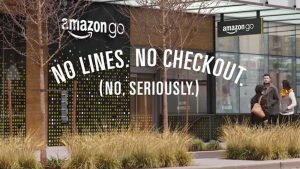 Amazon has just opened a new grocery store in Seattle. Perhaps the most surprising aspect is that this is an online retailer moving into bricks and mortar.
At Amazon Go, shoppers can walk in, choose the items they want and just walk out. No queuing, no check-outs, no scanning, and no card swiping. Just grab and go.
As customers enter the store, they swipe their smartphone. The Internet of Things-inspired Amazon Go then uses all manner of sensors and technologies to identify what products have been taken from the shelves and then adds them to a bill on the customer's phone. Simple.
Announcing Amazon Go, the company said: "Four years ago we asked ourselves, 'what if we could create a shopping experience with no queues and no checkout?' Could we push the boundaries of computer vision and machine learning to create a store where customers could simply take what they want and go? Our answer to those questions is Amazon Go and Just-Walk-Out Shopping."
At this stage, Amazon Go is just a proof of concept, with only company employees eligible to shop there, but the public beta-mode is scheduled for next year.
Over the past couple of years, the advent of self-scan checkouts and contactless payments seemed breakthroughs enough, as food retailers tried to give us a better and faster experience. But AmazonGo takes it all to a new level.
Self services checkouts are far from fool-proof and still need human intervention if a customers' age needs to be verified for purchases such as alcohol. But Amazon Go used facial recognition and many other technologies to differentiate bona fide customers from shoplifters, so that has the potential to remove the need for human interaction.
And Amazon is all about new technologies. All designed to save us time and make shopping easier. Its WiFi enabled Dash buttons enable remote reordering of over 100 grocery items and its Alexa voice-control platform allows you to dictate your grocery list.
And, back to drones, Amazon has also been testing the possibility of delivery by drone, with a prototype service that would use flying robots to deliver packages to customers within half an hour of ordering. The company has a drone research facility in Cambridge, England. It's just a matter of time then – and you can be sure that when all the regulatory issues are worked out, Amazon will be there the next day, or as we probably should expect from them the very same day, perhaps within the hour!
A new work-life paradigm
So why does all this connect? Well, all these technologies remove the need for people.
It is not hard to imagine that while checkout operator jobs are not available at Amazon Go, the shelves are also filled – or soon could be – automatically. And drones and robots replace delivery drivers, particularly those on two wheels, as they resolve that traditionally human-intensive 'last mile' delivery problem.
Spin further out into the food manufacturing space and see how much automation is taking over, particularly in warehousing.
Automation is inevitable, and the more so when applied to roles that people find repetitive, boring, or dangerous. We need to consider a new work-life paradigm. Where will the delivery personnel and checkout operators work in the future? What new tasks will they need to learn to stay in employment? One thing is certain: they will still need to work to earn the money to go shopping or order their favourite pizza.