The Flying Burrito Brothers: for real!
Project Wing, a unit of Google's parent company Alphabet, has cooperated with fast food business Chipotle Mexican Grill Inc and Blacksburg University, Virginia, with an experimental burritos delivery service on the campus of Virginia Tech.
Approved by the Federal Aviation Administration, this can claim to be the first food delivery service of its kind. "It's the first time that we're actually out there delivering stuff to people who want that stuff," said Dave Vos, head of Project Wing.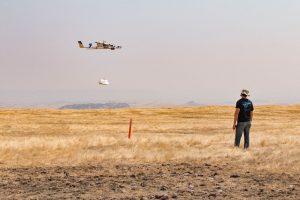 Project Wing uses UAVs that can fly like a plane or hover like a helicopter, making deliveries from a Chipotle food truck. The drones lower the burritos to the ground via a tether. In a statement, Google said it chose to test food delivery to learn how to package sensitive cargo.
"The burrito-bearing aircraft will be flown by automation, but human pilots will be standing by to take control if necessary to comply with FAA rules," Vos said.
With apologies (for my headline) to the seminal country-rock band The Flying Burrito Brothers which formed in 1969 and kinda did what The Eagles did, before they did it!
This trial by Google follows the first successful food delivery by 7-Eleven in July.