Robovan – on a street near you, soon
The constant challenge to reduce costs in 'the last mile' for any delivery has become an obsession for almost everyone in the logistics industry.
And for those who share my interest in new technologies, there have been some very exciting developments in recent months.
In November last year, in Ne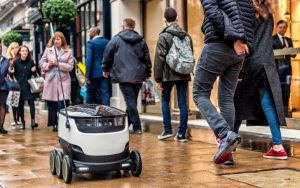 w Zealand, Domino successfully delivered its first pizzas using a drone and at about the same time Starship Technologies – launched by the former co-founders of Skype – completed trials of its revolutionary self-driving six-wheeled intelligent delivery robots in the United States and in London.
First launched in November 2015, Starship's robot is designed for the local delivery of goods and groceries for consumers for less than £1 per shipment. The robots use pavements, travel at slow speeds and produce zero emissions.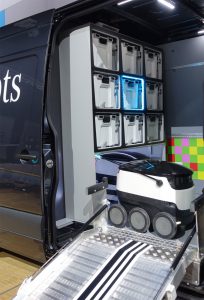 Enter – Robovan
Starship is now working with Mercedes-Benz on a project nicknamed 'Robovan', integrating self-driving robots with delivery vans for 'future-proof' local delivery. The semi-autonomous transp
ortation system will see Mercedes-Benz Sprinter vans act as 'motherships', hosting eight delivery robots. The vans will drive through neighbourhoods, stopping in designated locations, based on delivery density and demand, to drop off and pick up robots to complete customer deliveries.
The robots will be loaded with their goods in the 'Robovan', using a racking system that enables 400 packages to be delivered in each 9 hour shift, compared to 180 packages using previously available methods, an increase of over 120%.
"A typical van delivery today involves driving to a delivery area, and then spending an entire day on door-to-door deliveries. By leaving the door-to-door part to delivery robots, the van drivers' productivity will significantly rise while reducing congestion on the streets and CO2 emissions" said Starship's chief operating officer Allan Martinson.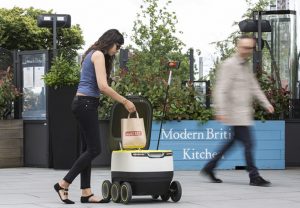 Starship's robots are successfully making deliveries in cities around the world, partnering with food delivery businesses such as Just Eat – so you might see one on a pavement near you soon.
Like Daleks
Like all new technologies, there are little things that just don't work and while Starship's robots are happy climbing curbs, they are like Daleks and don't do stairs!