Real-life RoboCop 2: Dubai to have android police force in May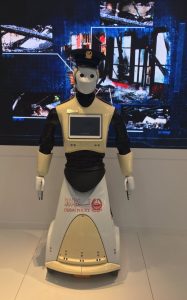 It's all happening in Dubai! The city in the sand plans to be the first to launch a drone taxi service and it will be the first to deploy Robot police officers.
The original 1987 film RoboCop saw a superhuman cyborg law enforcer hunting down dangerous criminals, but this real-life version is designed to deal with every day United Arab Emirates city police work.
Dubai Police have confirmed that the first robot police officer will be on patrol by May this year.
Similar to the Sanbot robot being tested in China – but spookily designed too look considerably more 'human' – citizens will be able to approach Dubai's multilingual, friendly police robot to report crimes, using a touchscreen on its chest. The robot can salute, shake hands, and be used by members of the public to report crimes or pay traffic fines.
According to Dubai Police's technical innovations department head Major Adnan Ali, Dubai Police, IBM, Google, and Watson are collaborating to create a virtual assistant system, enabling the robot to follow voice commands. Using AI technology and facial-recognition software, the aim is to create robots which 'can spot people from 10 or 20 metres away, approach them and greet them'.
Dubai Police unveiled the prototype at the Gulf Information Technology Exhibition last year, and have said that they want 25% of the force to be robots by 2030.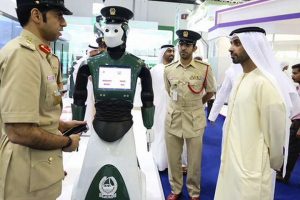 In an interview, Brigadier Abdullah Bin Sultan told Gulf News: "We are looking to have more robots in the future to handle policing. By 2030, we are keen to make robots around 25% of the total police force."
Earlier today I talked about a UK police force launching a drone system… Welcome to the world of modern policing. It's come a long way since the 'Bobby on a bike' or my childhood, or the Police Box where you could make an emergency call… but then, at least in my world, since 1963 a Police Box was a Tardis… So maybe…?