Pizza delivery – by a drone called 'Dru'
In November, a drone called 'Dru' successfully delivered a Domino's pizza to an address just north of Auckland, New Zealand.
Domino's claimed that it was the first ever unmanned aircraft to successfully carry out an autonomous pizza delivery.
For foodies, you need to know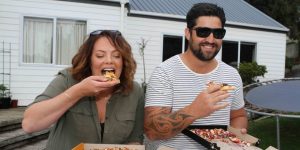 that Emma and Johnny Norman's order was a peri-peri chicken and a chicken and cranberry pizza.
For techies, the manufacturer of the drone is Flirtey – and 'delivery-by-drone' trials are already scheduled for Australia, Belgium, France, the Netherlands, Japan and Germany, while the UK and other markets are also being considered.
Safer, faster, fresher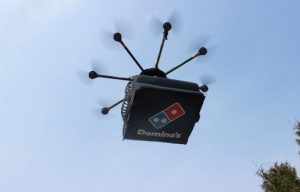 In an interview, Domino's CEO Don Meij said the aerial technique could catch on, as it beats traffic and cuts waiting time.
"The Dru drone by Flirtey offers the promise of safer, faster deliveries to an expanded delivery area, meaning more customers can expect to receive a freshly made order within our ultimate target of ten minutes.
"They [drones] can avoid traffic congestion and traffic lights, and safely reduce the delivery time and distance by travelling directly to customers' homes. This is the future."
Meij assured that the technique is not an attempt to cut the cost of hiring delivery drivers, insisting that more staff would be hired to manage the flying fleet.
A poll by Domino's reported that seven in ten customers would prefer drone deliveries of their pizzas.
It may have been the first pizza delivery by drone, but back in July Flirtey teamed up with 7-Eleven in Reno, Nevada, to make the first autonomous food delivery by drone.
Pictured: Celebrating the success of the 'domicopter': Domino's NZ managing director Scott Bush with Domino's customers Emma and Johnny Norman and Flirtey NZ director Samantha Sharif.