Pepper assists travellers at Oakland Airport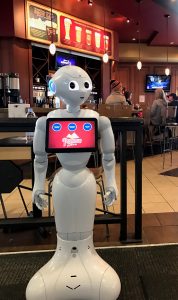 Pepper the robot – from SoftBank Robotics – has been hired at HMSHost's Pyramid Ale Taproom in Terminal 2 at Oakland Airport in California to offer menu advice, give directions and add 'a certain something' to the dining experience.
Pepper has been specially programmed to suggest food and drink selections based on a customer's personal preferences — and to go through the list of the craft beers available at the taproom.
"We're always working to identify the next opportunity to elevate the guest experience at airports," said HMSHost vice president of innovation Jim Schmitz.
"Through constant innovation, we aim to engage with travellers and assist them on their journey."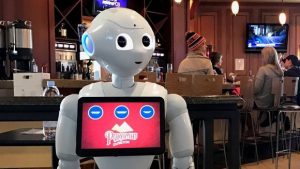 As well as offering menu guidance Pepper can help passengers find their gates, restrooms, and baggage claim, via an interactive map displayed on the screen mounted on its chest.
Pepper is not the first robot to be hired by a California airport. In October 2016, three robots called Norma, Amelia and Piper joined the team at Mineta San José International Airport.