Meet T-Pod – the driverless truck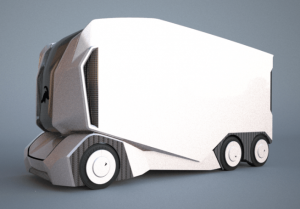 Swedish company Einride has announced what it calls 'a new transportation system' featuring futuristic-looking vehicles called T-pods.
On its website, Einride says: "This is not a company, it's a movement. We are rethinking the entire supply-chain infrastructure from the ground up, creating the transport solution of the future."
Einride is installing what it describes as the world's first completely emission-free, road-based transportation system and aims to have an active fleet of 200 T-pods running in Sweden by 2020. The first route will see 2 million pallets a year being shipped between Gothenburg and Helsingborg.
Designed to travel 124 miles on a single charge, each T-pod is 7 meters long and can hold 15 standard pallets, with a total weight of 20 tons.
On highways, T-pod is designed to be fully-autonomous, but switches to remote control as it enters city roads. In this mode, each pod will be remotely controlled by its own dedicated driver.
In a statement, Einride said: "The Einride system doesn't only benefit the environment, but also improves road safety, creates new jobs, and provides more cost-efficient transports for purchasers. A 'T-pod' is the height of efficiency; personnel don't have to stand by as it charges or spend an excess of time away from family and friends, and overall client logistics will be more flexible."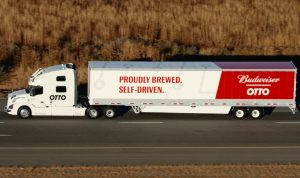 Viable? Well, yes… and a logical step forward. Last October saw Uber's Otto-developed Volvo deliver 50,000 cans of Budweiser beer in the US.
While T-pod's road safety and environmental benefits are obvious, I'll go back to the aspect I highlighted when I talked about the Uber Bud delivery… that according to the American Trucking Association, there simply are not enough experienced drivers to fulfil the needs of the country's freight haulage industry. So if T-pod works – and it will – then we're sure to see the concept take over the world from Sweden. Like Volvo, oh, and ABBA.