Meet Spencer – guiding KLM passengers at Schiphol airport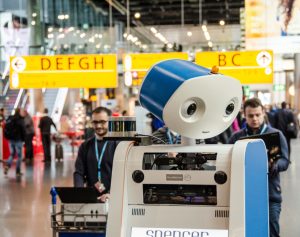 After more than three years of construction and programming, Spencer the robot has completed various tests at Schiphol airport, successfully guiding some KLM passengers to their departure gate.
During the various tests, Spencer scanned boarding passes from passengers and guided them to the correct departure gate. As Spencer automatically headed off towards the gate, with the passengers following, it adjusted its speed to the group, avoided obstacles and informed passengers of the remaining distance to their departure gate. When they arrived, Spencer reported this via its screen.
Spencer learns about and then complies to social rules and acts in a human-friendly way.
"Every day, some passengers can miss their connecting flight due to delays, language barriers or because they lose their way," said KLM chief operating officer René de Groot. "Considering that 70% of KLM passengers transfer at Schiphol, we are continually seeking ways to have this process run more smoothly.
"KLM believes that robotics will play an increasingly important role in aviation in the coming years. We are assessing how robotics can be incorporated into our processes in various areas. This will supplement the service offered by our airport staff, who will then have more time to assist passengers with more challenging needs."
"We are excited to present Spencer which is the first socially-aware robot that has ever been deployed at an airport," said Kai Arras, project coordinator at Freiburg University. "What makes Spencer unique is that it can deal with social situations between people. It can 'see' and analyse people nearby with its sensors. It reasons about possible social relations between people, such as whether they are a family or group. It also learns about and then complies to social rules and acts in a human-friendly way. These abilities are important for many intelligent service robots to be used by people such as future household robots, collaborative factory assistants, or self-driving cars.
"Guiding people at an airport is a good example of a challenging everyday problem. It is a very busy environment with many people and there is a lot of time pressure while the robot has to operate safely and in a socially acceptable way."
The name 'Spencer' is derived from Social situation-aware PErceptioN and action for CognitivE Robots.