Meet Loomo Go – the autonomous delivery robot from Segway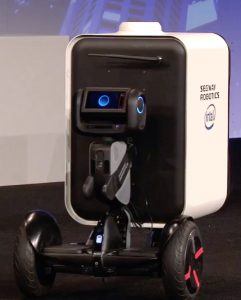 At the Auvsi Xponential 2017 event, in Dallas, Texas, Intel CEO Brian Krzanich introduced Loomo Go – an autonomous delivery robot created by Segway Robotics.
Able to be operated just like an actual Segway, Loomo Go is designed to help people and deliver different things, independently orienting themselves in space. It is equipped with Intel RealSense technology, which allows it to create a three-dimensional model and a two-dimensional map of the world, to aid navigation in real time.
RealSense includes precise gesture tracking which is able to detect movements from all 22 hand joints. With this technology, Loomo Go can scan its environment in 3D, recognise people via facial recognition, and detect human emotions.