Meet Lilium, the VTOL taxi!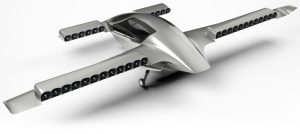 OK, so it's not a drone or a robot – and that's what I usually talk about – but it's a flying taxi which takes off and lands vertically, and that makes me happy!
Powered by an electric battery, the Lilium Jet has 36-propellers spread across its wings and can fly up to five people nearly 200 miles in an hour. The Lilium Jet's top speed in the air would compete with a Formula 1 car – so once it's up and running, expect to see it on Top Gear or The Grand Tour!
The prototype has made its first successful maiden voyage in skies above Germany and I wouldn't usually break the first rule of marketing and send you away from my site, but if you'd like to see Lilium in action, then here's a link to their video.
Celebrating the landmark test-flight, Lilium co-founder and CEO Daniel Wiegand said: "Seeing the Lilium Jet take to the sky and performing sophisticated manoeuvres with apparent ease is testament to the skill and perseverance of our amazing team. We have solved some of the toughest engineering challenges in aviation to get to this point.
"The successful test flight programme shows that our ground-breaking technical design works exactly as we envisioned. We can now turn our focus to designing the five seater production aircraft."
The Lilium Jet's top speed in the air would compete with a Formula 1 car – so once it's up and running, expect to see it on Top Gear or The Grand Tour!
According to the company: The Lilium Jet is 100% electrically powered, so creates no harmful emissions, making it a potential solution to deteriorating air quality in towns and cities, caused by road traffic. It is also the only electric aircraft capable of both VTOL and jet-powered flight, using its wings for lift, similar to a conventional airplane.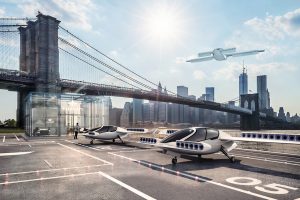 This advanced capability consumes around 90% less energy than drone-style aircraft, enabling the Lilium Jet to achieve a range of more than 300 km with a maximum cruising speed of 300 km/h, while in flight, the Jet's power consumption per km will be comparable to an electric car. Take-off and landing for a Lilium Jet only requires a small open space or landing pad on a building – alleviating pressure on congested roads.
The combination of energy efficient flight and minimal ground infrastructure will enable passenger flights with comparable pricing to normal car taxis over the same distance. A typical journey by Lilium Jet will be at least 5 times faster than by car, with even greater efficiencies in busy cities. For example, a flight from Manhattan to New York's JFK Airport will take around 5 minutes, compared to 55 minutes driving.
So that's it! A perfectly viable, prototype test-flight proven flying taxi – in my lifetime!
The Lilium Jet is more practical than the EHang 184 drone taxi, which is theoretically due to begin service in Dubai in July, and while it is not a 'flying car' – like AeroMobil, or the Airbus and Italdesign 'Pop Up' concept, its VTOL capabilities and range make it seem destined for success. It will be interesting to see how quickly it can get to market – and how quickly it can fly through the regulations that no one has yet considered as our skies become busier.
Well done, and thank you, Daniel and team… for making the future happen now.

I'm in Munich in September and intend to find out more!