Meet Horsefly – a drone-and-truck delivery system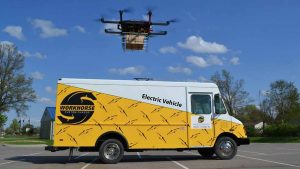 US-based electrically powered utility vehicle company Workhorse Group is testing a last-mile package delivery system using drones based on trucks.
Workhorse is developing the delivery method using both electric vehicles and drones, eliminating the need for drones to make individual trips from a warehouse. The drone will be installed on the truck so that once the vehicle approaches the destination, the drone will take off and deliver the package to the recipient's address.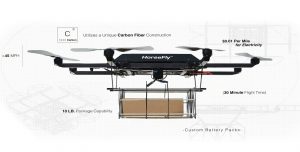 The HorseFly UAV Delivery system is a custom built, high efficiency octocopter-based delivery UAV that is fully integrated with Workhorse Group's line of electric/hybrid delivery trucks.
The HorseFly system is designed to conform to the FAA guidelines for UAV operation in the US. Most notably, being fully integrated with delivery trucks, the system is designed such that a driver or driver's assistant can maintain line-of-sight operation of the UAV delivery process.
In February this year the company teamed up with delivery company UPS for a successful trial in Florida using the Workhorse Group's Horsefly delivery drone. Workhorse believes that the drone-and-truck system will catch on slowly before becoming the norm for package delivery.
Using drones is particularly useful for deliveries to isolated locations and not only does it reduce cost, it frees up the driver to handle larger packages and focus on homes in areas with higher concentrations of deliveries. Delivery of small parcels to secluded homes takes up more time in a traditional vehicle, adds to fuel bills and potentially increases maintenance fees because of the extra wear and tear on the truck.
The Workhorse Group is currently working with the University of Cincinnati's aeronautical engineering program to refine its drone technology.