Meet GyroDrive – is this the first road-legal flying car?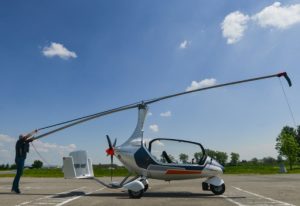 Is this the first 'practical' flying car? A Czech pilot called Pavel Brezina has designed and built the GyroDrive – an autogyro modified to be driven on public roads.
"This is the only road-certified flying vehicle I know about," Brezina told the AFP news agency. "Everyone is trying to make a high-speed car that can fly, but this is a different thing."
To create the vehicle, Brezina buys autogyro kits from German manufacturer and modifies them so that the wheels are powered by electric motors. It can then be driven like a car.
A switch enables the pilot/driver to operate either the petrol-powered rotor for flight, or the electric wheels for driving on the road. When he rotors are folded away, a number plate is revealed, and Brezina claims that the GyroDrive then becomes road-legal.
GyroDrive has a claimed top speed on the ground of 25mph and a little over 110mph in the air. To take off it requires only 100 meters of 'runway' and can fly for up to 600km on a tank of fuel.
Brezina says that the GyroDrive costs between £50,000 and £130,000, depending on specification – quite some price difference from the AeroMobil's cool $1 million price tag!