Meet EMIEW3 – Hitachi's airport robot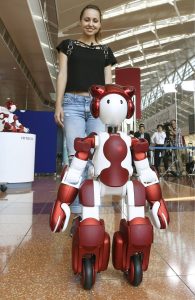 Hitachi has started trials of its EMIEW3 humanoid robot at Tokyo's Haneda airport in Japan.
The 90 centimetre-tall robot communicates with passengers in Japanese and English and has autonomous capabilities to guide users to destinations.
"We are hoping to use EMIEW3 to assist efforts to extend hospitality at Haneda airport through our trial runs," said Hiroshi Sato, senior vice president and executive officer at Hitachi.