Meet CargoPod – Ocado's autonomous food delivery vehicle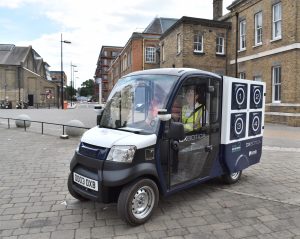 Online grocery shoppers in the Borough of Greenwich in London have had food successfully delivered to their homes by a driverless truck, called CargoPod.
This first trial of its kind is part of a wider autonomous car initiative led by TRL and involving the technology division of the online grocer Ocado. The trial delivery was carried out as part of the Greenwich Automated Transport Environment GATEway project.
Developed by Oxbotica, from Oxford University, CargoPod's navigation uses the company's Caesium cloud-based fleet management software and its Selenium autonomous control system.
"We envisage that cities could benefit massively if deliveries could be made by quiet, zero emission, automated vehicles when congestion is minimal."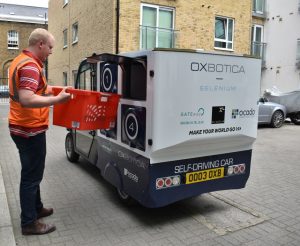 CargoPod can cover a distance of 30 kilometers on a single charge, at speeds of up to 40km/h. It is equipped with eight cargo compartments. The corresponding customer compartment lights up when CargoPod arrives at a particular customer's stop. The customer is then able to press a central button, which unlocks the compartment, and open the door and retrieve their groceries.
Oxbotica CEO Graeme Smith said: "Last mile delivery is a growing challenge as our cities become denser and more congested. In this new project we are working closely with Ocado Technology to deploy our Selenium autonomy system into a novel last-mile delivery application in Greenwich as a part of the GATEway project."
Simon Tong, principal research scientist (TRL) and technical lead for the GATEway project, said: "The GATEway project is unique in that it considers the effect of automated vehicles on the movement of goods as well as the movement of people. This trial with Ocado Technology provides an ideal platform to help us understand how and where these vehicles could best operate and whether people would accept, trust and like them as an automated delivery service in the city. We envisage that cities could benefit massively if deliveries could be made by quiet, zero emission, automated vehicles when congestion is minimal."