Marble begins food delivery trials with Yelp Eat24 in San Francisco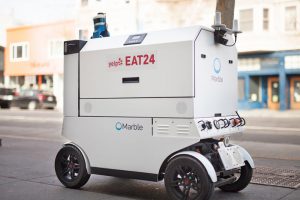 San Francisco-based robotics startup business Marble has announced its first partnership, working with fast food ordering and delivery business Yelp Eat24.
A few city restaurants are helping Marble and Yelp trial the new service. The food outlets place their meals inside the robot's cargo bay and on arrival, customers use an access code which has been texted to their phone to unlock the cargo bay and receive their food.
Not yet fully autonomous, during the trials a Marble employee is on hand should anything go wrong.
Marble CEO Delaney said: "At Marble, our vision is to create helpful robots that improve urban neighbourhood living for everyone.
One more step towards to the future. One more bot on the street.
"We're creating a more efficient, reliable, and affordable way for people to receive what they need and want from their cities, while reducing urban congestion and carbon footprint. Our system bolsters local commerce and unlocks the full potential of the on-demand economy allowing it to be something that everyone can benefit from."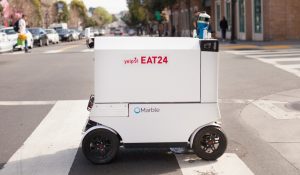 The Marble robots use NVIDIA's TX1 Jetson supercomputers to 'learn' environmental data coming from a number of cameras, LiDAR, and ultrasonic sensors. As Marble and Eat24 expand their trials, they will gradually map San Fransico's sidewalks and develop fully optimised routes – with the ultimate aim of fully autonomous operation.
One more step towards to the future. One more bot on the street.