Is Amazon planning flying warehouses filled with drones?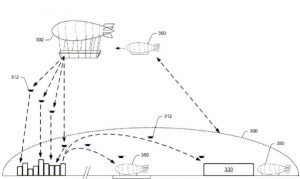 A patent, filed by online retailer Amazon in 2014 has been discover by CB Insights analyst Zoe Leavitt, detailing plans for giant flying warehouses, carrying fleets of delivery drones.
The warehouses, referred to as 'airborne fulfilment centres' (AFCs), would be carried by airships stationed above cities, and used to store items and then deliver them using drones, otherwise described as 'unmanned aerial vehicles' or UAVs.
The patent details that the drones dispatched from AFCs would glide to their destination, rather than fly – therefore using no power. The drones themselves are able to cruise and hover at altitudes of up to 14,000 metres (45,000 feet).
The patent says: "The AFC may be an airship that remains at a high altitude and UAVs with ordered items may be deployed from the AFC to deliver ordered items to user-designated delivery locations. As the UAVs descend, they can navigate horizontally toward a user-specified delivery location using little to no power."
The plan seems to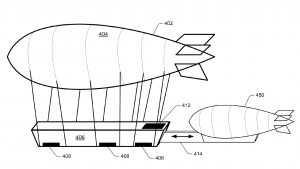 be that the warehouses would visit places where Amazon expects high demand for certain goods. For example near major sporting events or festivals where they would distribute food or souvenirs to spectators.
Earlier this month Amazon made its first commercial delivery by drone via a test-programme it is running in Cambridge, UK – so the concept of flying warehouses simply takes the whole concept of drone delivery to a literal new level.