Idaho follows Virginia and legalises robot delivery
Hard on the heals of Virginia, Idaho has become the second US state to pass legislation to allow delivery robots to roam its streets.
From 1 July, Starship Technologies' delivery robots will be allowed to operate autonomously in Idaho – at a maximum speed of 10 miles and hour – without a person walking with them, or 'watching them within their line of sight'.
Wisconsin and Florida are also currently working on similar legislation, while Starship is currently testing its robotic delivery technology with Postmates in Washington, DC, and DoorDash in Redwood City, California.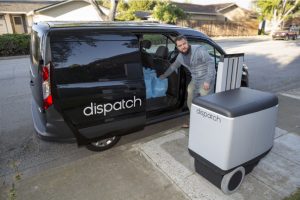 More robots, more players, more states
The new laws apply to all robot delivery vehicles, so Dispatch and Marble can be included when ready.
So very soon, more robots from more companies, in more US states, will become a reality.
Welcome to the future!