Drone sets US record for package delivery at close to 100 miles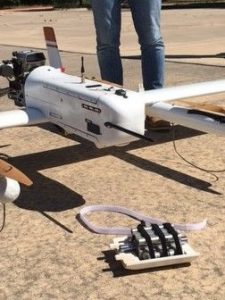 In Texas, on 5 May, a team of drone experts – amusingly dubbed 'Team Roadrunner', after the famous fast-running cartoon character – set a US record for long-distance delivery by drone.
Using a fixed-wing UAV, the team managed to deliver a 1.8 kilogram package over a distance of 97 miles from central Texas to Austin. Although the drone flew autonomously, observers were positioned along the route throughout the entire flight in order to keep the aircraft within line of sight, which is currently required by the FAA.
Dr Chris Walach, who led the mission, said: "This was the most challenging, logistically-intensive, and longest package delivery demonstration recorded to date using cellular technology, and allowed us the opportunity to demonstrate innovative capability.
"Launched from a central Texas location, the unmanned aerial vehicle (UAV) flew a pre-planned route through the National Airspace System, led by experts from the Nevada Institute for Autonomous Systems (UAS)
"Assembling a resilient team, being at the right place at the right time, with the right innovative technology, and entrepreneurial perspective is what allowed us to accomplish this mission."