Domino's robot pizza deliveries reach Europe
A year after Domino's Pizza Enterprises unveiled the world's first autonomous pizza delivery vehicle in Australia, it has announced that it is to introduce pizza delivery robots in Germany and the Netherlands this summer.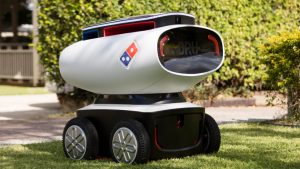 Despite having worked with Marathon Targets for its initial robot delivery trial in Australia (pictured), in Europe it is working with Starship Technologies – but according to reports it is apparently still developing its own delivery robots.
In December, in New Zealand, Domino's made its first successful pizza delivery with a UAV, called 'DRU' – named after the Domino's Robotic Unit which is responsible for all of the company's developments in autonomous delivery.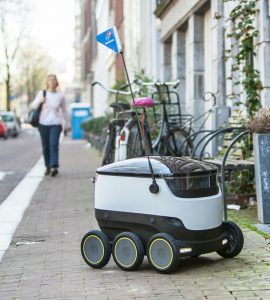 In a statement, Domino's CEO Don Meij said that if the company doesn't add drones [UAVs and ground-based robots] to its fleet through initiatives like this, it won't have enough delivery drivers with its growth plans over the next five to 10 years.
If Domino's doesn't add drones to its fleet, it won't have enough delivery drivers to meet its growth plans over the next five to 10 years.
Starship's, as yet unnamed autonomous robot can carry up to eight pizzas or a combination of pizzas, drinks, sides and desserts. On arrival at its delivery destination, customers unlock the cargo hold with a code sent to their phones.
Two US states – Idaho and Virginia – have already legalised the use of drones, so it can only be a matter of time before you begin to see these six-wheeled fellows on pretty much every city street.
Margherita or Four Seasons? Sweaty delivery boy or cute six wheeled robot? The choice may soon be yours!