Chinese online retailer is building a heavy-duty delivery drone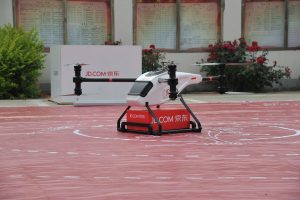 One of China's largest online retailers, JD.com, plans to develop a drone which is capable of carrying one ton of cargo.
The technology is scheduled to be tested over the next two to three years in the northwestern Chinese province of Shaanxi – and is intended to create a solution for the delivery of food from rural agricultural regions into cities, rather than providing last-mile delivery solutions which JD's existing drone fleet already provides.
JD currently has five models and a fleet of more than 30 drones in operation – delivering packages weighing between 6 Kg and 15 Kg and covering distances as far as 50 kilometres.