Automation and Brexit: the future of work
As the letter to the EU Council that will trigger Article 50 to begin the Brexit process is delivered, Len McCluskey, the leader of the UK's biggest union Unite, has warned that more action is needed by the government to prepare the country's workforce for increasing automation.
He is calling for the establishment of a broad-based commission on the future of work, saying that automation presents huge challenges, but could be a benefit to society if handled well.
In a statement on Unite's website on 27th March, McCluskey warned that 'automation should not be used as an opportunity to cut costs and make a fatter profit', but used instead to re-think the working week and re-skill the workforce.
He said: "If Brexit is the most pressing challenge we face, it's not the only one.
"Automation is also casting a long shadow. The replacement of workers by robots is an issue facing all parts of manufacturing and many service sectors, but it's presently focused on the motor industry above all.
"One manager recently said: 'Instead of five people doing these jobs, I have one guy running five robots that do tedious jobs longer without quality issues. Plus, the robot shows up for work every day and doesn't get the flu.'
"Automation could be a good thing for industry and society, if handled in the right way – which means not seeing it as just another opportunity to cut jobs and costs and make a fatter profit.
"It should instead be an opportunity for a shorter working week with no loss in pay, or the gateway to a nationwide programme of re-skilling and up-skilling existing workers, while also creating new training and apprenticeship schemes.
"That won't happen if a laissez-faire free-market approach is allowed to dominate. 
  
"A world where our parents' hopes for a 'job for life', has been replaced with the hope for work for the next few years, is one that is insecure and uncertain.
"That is why Unite is calling for the government to take the lead in setting up a Future of Automation Commission, involving unions, employers, researchers and academics to find workable solutions to automation, opportunity and threat as it simultaneously is."
A new work-life paradigm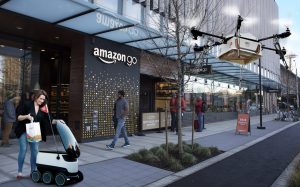 In my blog 'The future of food retailing and delivery in the 4th industrial age', back in December, I asked if we needed a new work-life paradigm?
Commenting on Amazon Go's supermarket with no checkouts and successful deliveries by both drones and robots, is wrote: "Automation is inevitable, and the more so when applied to roles that people find repetitive, boring, or dangerous. We need to consider a new work-life paradigm.
"Where will the delivery personnel and checkout operators work in the future? What new tasks will they need to learn to stay in employment? One thing is certain: they will still need to work to earn the money to go shopping or order their favourite pizza".