At last, the flying car! Meet the car-carrying drone from Airbus
Well, the whole point of this blog is to celebrate that the future I read about in comics and watched on TV or at the cinema when I was a kid, is actually here, Now!
So let's put two of my interests together – driverless cars and drones – and see what Airbus has dreamed up! With the announcement of 'taxi-drones' in Dubai earlier this year, this is not so far-fetched.
Airbus and Italdesign presented the concept, called 'Pop Up' at the Geneva Motor Show last week.
The car features three different sections: the capsule, drone and wheelbase. When in 'ordinary' car mode, the capsule docks with the wheelbase and can be driven either as normal or in self-driving mode. But if the passenger gets stuck in heavy traffic, the car can disconnect from the wheels before being picked up by the drone element and flying free.
According to reports, both Airbus and Italdesign predict that the vehicle would be part of an app driven ride-hailing system which would automatically suggest the best transport solution – either by air or on the ground.
"It combines ground with the air and allows passengers a seamless and faster way of getting from A-to-B using the city sky," said Mathias Thomsen, general manager at Airbus.
"Right now, the urban sky is quite under-utilised. The grid-like layout of road doesn't actually do it for us, and we think that by combining air and ground we will get a much better use of the space in our cities."
In an interview, Italdesign CEO Jörg Astalosch said that the Pop Up vehicle is 'a glimpse into the future of transportation, where the traditional car cannot alone be the solution'.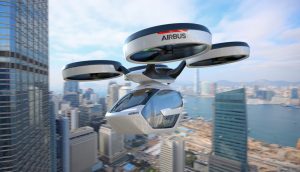 "Today, automobiles are part of a much wider eco-system: if you want to design the urban vehicle of the future, the traditional car cannot alone be the solution for megacities."
Perhaps I will live long enough to see flying cars, after all… and to see traffic jams in the sky as well as on the roads?