Are wearables the future for cashless payments?
Can you down your credit card and pay with your body? Wearable technologies are gaining ground fast and while they're great it you're a fitness fanatic and want to track your progress, a growing number of wearables are adding contactless – and therefore cashless – payments into the mix.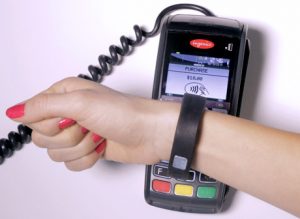 According to eMarketer, In the United States, 63.7 million adults will use smartwatches and fitness trackers in 2016. Penetration among US adults is expected to rise to 81.7 million users by 2018. These consumers simply love technology and are likely to highly receptive to new payments options. Banks have already noticed this trend. Research by Misys shows that 15% of banks already have or are due to launch wearable apps. 72% of banks say wearables are on their roadmap for the next three years and 66% say proximity payments are the most attractive capability of wearables.
Surprisingly secure
And wearables are surprisingly secure. They can use geolocation and proximity to provide protected and convenient transactions. Biometrics can also be used to authenticate users.
Geolocation can confirm that a customer is in the correct place for the transaction they are trying to make and confirming a customer's proximity to the correct smartphone can provide additional evidence that the user is who they say they are. Proximity to in-store beacons can also be used to prompt a transaction and a pre-registered customer could carry a product out of a store while seamlessly executing their payment.
Biometrics capabilities are evolving and could take a variety of forms including plethysmography (vein pattern recognition), finger print scanning, or heart beat and brain wave biometrics. These will enable real-time user authentication of the worn device, providing excellent security for payments.
Higher value payments might still need a physical touch, but this could still leverage biometric finger print recognition to further reinforce security.
From the Apple Watch to 'off the cuff' payments!
There are several wearable payment solutions already on the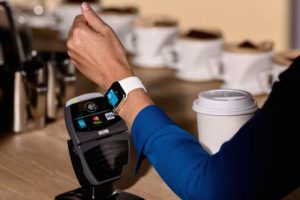 market. Perhaps the best know is the Apple Watch which was one of the most talked-about gadgets of 2015 – but with Apple Pay now live, it's become a portable payment device as well as a 'smart' timepiece. A consumer's iPhone handles the job of adding debit and credit cards, as well as verifying your identity, and you can then pay using the Apple Watch with a flick of your wrist.
Samsung's Gear S2 is designed to couple with the Samsung Pay service and is designed to be compatible with most recent Android phones. Chinese retail giant Alibaba has also launched its own Pay Watch in partnership with the FiiSmart wearable brand. Probably unlikely to appear outside its home country, the payment system it supports boasts over 900 million Chinese users already.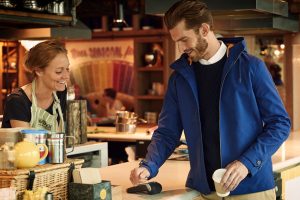 And finally, if wearing something around your wrist is just not your style, then thanks to Lyle & Scott (working with Barclays) you can have NFC payment technology built into your jacket – with the payment device hidden in your sleeve – to make 'off the cuff' payments!