Amazon makes UK delivery drone history
On 7 December, Amazon made its first drone delivery – to an actual customer – dropping off a Fire TV streaming stick and a bag of popcorn to a house in near Cambridge, England, just 13 minutes after receiving an online order.
Amazon is making its drone-delivery service available to customers who live within a few miles of its Cambridge test facility – which uses a zone that British aviation authorities have authorised for drone test flights.
This is a significant 'first' in the drone delivery story.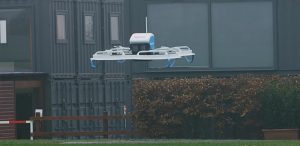 Amazon says the delivery involved 'fully autonomous flight', with no human pilot involved in the process.
Amazon chief executive Jeff Bezos tweeted: "First ever #AmazonPrimeAir customer delivery is in the books. 13 min – click to delivery."
As proof, Amazon posted a video of the flight on YouTube.
There are limits to the service for now, from range and weather to package weight – and customers currently have to have a large garden to safely receive their delivery, which can only happen during daylight hours – but this is a significant 'first' in the drone delivery story.
Images from Amazon's YouTube video.