Uber's self-driving truck delivers 50,000 cans of Bud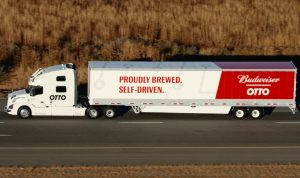 Last week, in Colorado, USA, a driverless Uber truck made a 120 mile journey to deliver 50,000 cans of Budweiser beer – the first recorded commercial shipment by an autonomous vehicle.
Otto, bought by Uber in August, takes Volvo trucks and retrofits them with lidar laser detection units, radar and cameras, which together collect data for onboard computers to translate into driving directions.
The vehicles drive autonomously on major roads, maintaining a safe distance from other vehicles and only change lanes when necessary. On busy city routes, the human driver takes over.
In a statement, Otto said that in the future self-driving trucks will drive on interstate routes, with human drivers handling the last few miles into town.
A virtual train on a software rail
"You can imagine a future where those trucks are essentially a virtual train on a software rail, on the highway," said Otto co-founder Lior Ron.
"We think that self-driving technologies can improve safety, reduce emissions, and improve operational efficiencies of our shipments," said James Sembrot, who handles logistics for Anheuser-Busch and worked with Otto on this test run.
Uber Technologies Inc bought Otto, the self-driving truck development company, in August, for around $680 million and has since formed a $300 million alliance with Volvo Car Group to develop self-driving cars.
Those interested in the future of autonomous transport are frequently distracted by cars and the exploits of companies such as Tesla, but applying the technologies to the trucking industry makes more practical sense – and potential makes the roads a safer place. And, according to the American Trucking Association, there simply are not enough experienced drivers to fulfil the needs of the country's freight haulage industry which delivers around 70% of the nation's freight – and that's a staggering 10.5 billion tons a year.