Meet HOSPI – the autonomous medical robot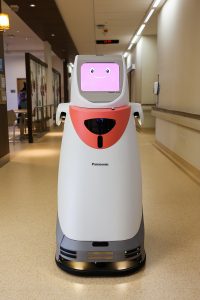 Panasonic System Solutions Asia Pacific (PSSAP) and Changi General Hospital (CGH) are implementing assistive robotics technology to improve operational efficiency of a hospital in Singapore.
Experimental use of the Panasonic autonomous delivery robots, HOSPI, began in February 2015 and they are being implemented in phases. CGH is the first hospital outside of Japan to utilise HOSPI. As part of the hospital's porter management system, the four HOSPI are able to deliver fragile and bulky medicine, medical specimens and patients' case notes 24/7, easing manpower constraints.
Rubina Gan, Assistant General Manager, PSSAP, noted, "Singapore has often been dubbed a 'living laboratory' for companies to experiment and co-create solutions. Panasonic is excited to work together with Changi General Hospital to phase in our HOSPI robots for full deployment so that eventually medical caregivers' time is freed up for dedicated patient care and treatment. CHART's (Centre for Healthcare Assistive and Robotics Technology) opening cements how technology and solutions can play a key role in healthcare in the future."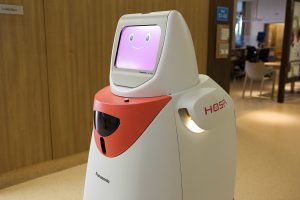 HOSPI is equipped with sensors and programmed with the hospital's map data to avoid obstacles such as patients in wheelchairs and complete deliveries with minimal supervision. New hospital routes can be programmed in advance, allowing flexibility. The autonomous robot communicates and relays information on its whereabouts to the control centre, enabling its location to be monitored and recorded at all times.