I was in Dubai last week for the annual Gulfood event – and also presenting the Gulfood Innovation Awards – and the media was filled with news that in July, Dubai intends to start a passenger-carrying drone taxi service!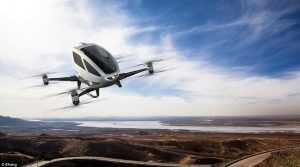 The egg-shaped, four-legged, eight-propeller Chinese-made EHang 184 has already had its debut flight over the sail-shaped Burj al-Arab skyscraper hotel.
The EHang 184 can carry a passenger weighing up to 100 kilograms and a small suitcase. To use the taxi, the passenger buckles into its racing-car-style seat, selects a destination on a touch-screen pad in front of the seat and the drone flies there automatically.
The drone's battery allows for a half-hour flight time and a range of up to 50 kilometres (31 miles). In flight, it will be monitored remotely by a control room on the ground. It has a top speed of 160 kph (100 mph), but will typically operate at 100 kph (62 mph).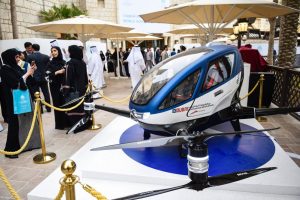 Mattar al-Tayer, the head of Dubai's Roads & Transportation Agency, announced plans to have the craft regularly flying during July.
So will it catch-on?
Sheikh Mohammed bin Rashid Al Maktoum, Dubai's ruler, said in April 2016 that he wanted 25% of all passenger trips in the city to be done by driverless vehicles by 2030.
If something that seems crazy is going work, then Dubai seems a likely setting to make it happen!